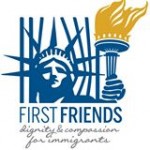 Please help First Friends by providing welcome and hospitality to an 18-year old female from Peru named "C".  Here is her story:
C is a 17-year-old girl from Peru. She arrived to the United States less than a month ago traveling with her young cousin; they were separated from C's aunt during their journey.
C's father abandoned the family when she was a baby, and C grew up with her mother and siblings. When C was small, her mother's then-partner was very violent towards C's mother in C's presence and tried to sexually abuse C when she was 4 years old–her mother prevented the abuse and fled with her children. In the years since, the ex-partner has continued to find the family and abuse C's mother, including assaulting her partner with a knife.
C is very close to her mother, who is extremely ill and cannot afford the medical treatment needed to save her life. C worked in an Internet cafe in the morning to pay her own way in  night school and help her family. She has been sexually assaulted (groped) on her way home from school at night.
Given her history, C is afraid of being alone with boys or men. Despite her adversity, C is doing very well in ORR custody–she gets along well with staff and her peers. C is sweet, smart, and determined to be in a safe place. C is terrified of adult detention after experiencing poor conditions and treatment when she first arrived in the US, including having to use the bathroom in front of others in the same space where they all slept. C would like to eventually reunify with family members in the US, once it can be established that these can be safe options for her.
First Friends is requesting your immediate help, to provide safe and stable housing for C, and prevent C from being moved into the adult detention facility on Monday and help prevent her from further trauma.
Please contact Sally Pillay at 201-394-9093 if you require more information.