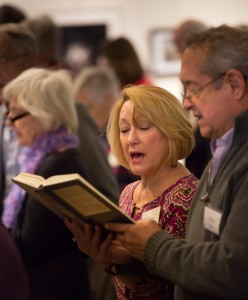 Services are held in Anderson each Sunday at 10:00 AM. The service lasts about an hour and includes music, readings and an address by our minister or an invited speaker.
NEWCOMERS, WELCOME! Please join us for coffee after the service. In addition to speaking with Ann Pareti at the Membership Table, you'll have a chance to meet and talk with some of our members, and to stop at our Social Responsibilities table where you will see the many social justice issues our members are committed to working on. To receive the newsletter for a few months, please fill out a "green sheet" at the Welcome Table.
---
September 24, 2017
"The Universalist Spirit"- Rev. Dr. Sarah Lenzi, Minister.

Musicians: Tribute to Barbara Cook and Glen Campbell; Ron Levy, piano; Kristen Plumley, Rick Sawyer and Dave Spungen, singers. 
---
CHILDREN are invited to attend Religious Education program during the services from September until June 12th.  No Religious Education Program in Summer!
INFANTS AND TODDLERS can be cared for downstairs in our supervised nursery, which receives a broadcast of the service.
PLEASE WAIT for the music or reading to be finished before you enter the room.
REMEMBER to turn off your cell phones.