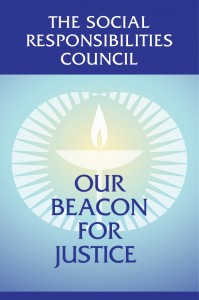 The mission of the Social Responsibilities Council (SRC) is to promote a just and equitable world by challenging injustice and valuing diversity as we live by our Unitarian Universalist principles.  The Council works to accomplish this by strengthening social justice activity within the congregation and in the community.  The SRC partners with organizations such as the Unitarian Universalist Legislative Ministry of NJ, the Unitarian Universalist Association, the Unitarian Universalist Service Committee, other UU congregations and other groups whose work is in concert with UU principles.
The SRC will foster social justice through advocacy and community service by:
Serving as a resource and coordinating the work of the active subcommittees, several liaisons to UU

 

and other independent groups
Preparing and administering the SRC budget.
Organizing and implementing social justice plate collection 15 Sundays per year.

 

These plate collections are donated to an outside social justice cause that has been suggested by congregants including SRC members.
Coordinating and staffing the SRC Action table giving congregants an opportunity to advocate for issues that are supported by subcommittees.
Providing a liaison to the Children Youth Religious Education Committee so that there is full exchange of ideas and coordination of social justice activities for children and youth in the RE programs.
Managing a yahoo group that keeps all subscribers up to date on pertinent social justice issues.
Reviewed and approved by the Social Responsibilities Council:  March 23, 2016