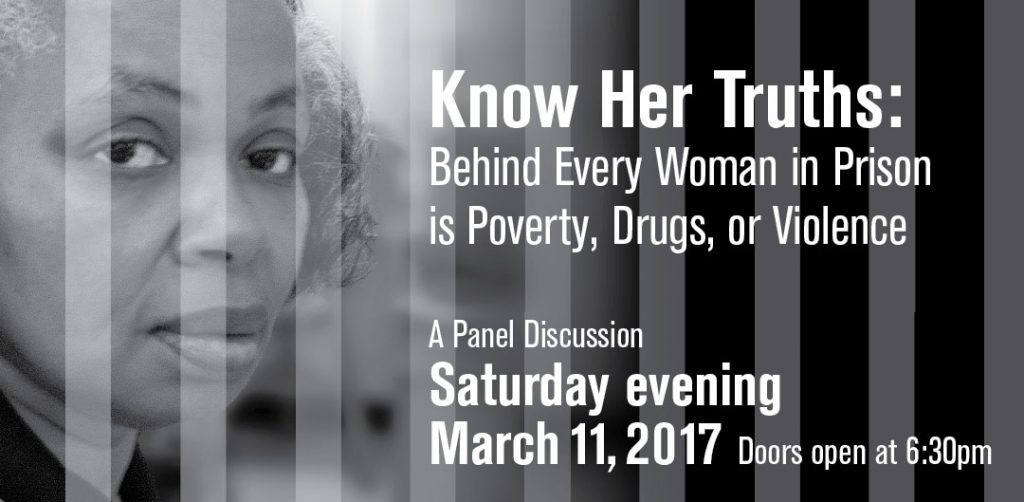 Panel Discussion
Know Her Truths:
Behind Every Woman in Prison is Poverty, Drugs, or Violence
Saturday, March 11, 2017
Doors open at 6:30pm. Speakers begin at 7:00pm.
Light supper served.
Speakers:
Stephanie Kennedy, PhD, MSW
Crystal Hayes, MSW
and
Lydia Thornton, a certified paralegal and returning citizen after serving four years at the Edna Mahan Correctional Facility.
Did you know that between 1980 and 2014 women's rate of incarceration increased by 700%, outpacing the rate of incarceration for men by more than 50%? Did you know that African American women are incarcerated at more than twice the rate of White women, and Hispanic women at more than 1.2 times the rate of White women? Did you know that women in many prisons, including those here in NJ, are typically shackled during labor and delivery? Explore these and other issues as the Reproductive Justice Committee and cosponsors host a panel event focused on the rights and lives of incarcerated women and their families. From poverty to childhood trauma, panelists will discuss the many factors that play a role in imprisonment, as well as reflect on the state of women's rights within prison walls. Please join us in conversation. 
To make your reservation, please email usr.secretary@gmail.com
$10 donation requested to cover the cost of the food and setup. 
Child Care provided with 2 weeks notice.  Email Ann Pareti at usr.membership1@gmail.com
---
To download the event flyer, please click here.
---
Sponsored by:
Reproductive Justice Committee of the Unitarian Society of Ridgewood
Cosponsored by:
The Racial Justice Committee of the Unitarian Society of Ridgewood
The Social Responsibilities Council of the Unitarian Society of Ridgewood
Central Unitarian Church Social Action Team
Metropolitan AME Zion Church
UUCP Racial & Social Justice Team