Since 1968, Citizens for Swimming has hosted summer day campers from Paterson for 9 days of swim lessons and fun in the water.
2017 will be our 50th year at the pool!
The children we host have little access to swimming.  C4S provides them with a few weeks respite from the summer heat, and swimming lessons that build water safety skills. Swimming is not just fun in the sun, it is a practical skill that many of these kids have limited access to. African American children ages 5-19 drown at rates more than 5 times higher than their white counterparts. YMCA swim instructors provide Citizens for Swimming kids with skills and experiences that will serve them for a lifetime.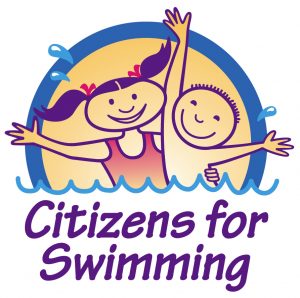 We spend $110 per child for our 9-day swim program.  This includes bus transportation to and from Paterson (by far our biggest expense), discounted Graydon Pool admission, and supplies like bathing suits and beach towels. Some of our kids arrive the first day wearing shorts instead of a bathing suit and carrying one of their mom's good bath towels.  We provide a bathing suit and a beach towel to every child who needs one.
---
2017 Dates:
August 8 – August 24, 2017
Every Tuesday, Wednesday, and Thursday from 1-4:30pm
(August 8th, 9th, and 10th; August 15th, 16th, and 17th; and August 22nd, 23rd, and 24th)
---
Here's how you can help:
Make a monetary donation: https://www.youcaring.com/citizensforswimming-850455
Donate supplies!  We need new and gently used beach towels and suits for 90 campers, plus beach toys, goggles, and sunscreen.  Why not clean out your closets or hit the sale racks for Citizens?  Donations can be dropped at the Unitarian Society of Ridgewood office (113 Cottage Place, Ridgewood) or at Graydon Pool.  For your convenience you can also order from our Amazon Wish List and have your donation shipped directly to us.
Like our Facebook page, and share it with your friends!
For more information, please contact us by email at c4s.usr@gmail.com.
Thank you for your support!