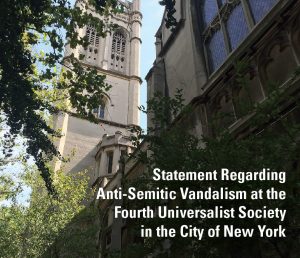 Statement Regarding Anti-Semitic Vandalism at the Fourth Universalist Society in the City of New York
Sometime on Monday night, February 27, 2017, vandals carved swastikas into the wooden doors of the Fourth Universalist Society in the City of New York. Fourth Universalist is a congregation that has long stood for peace and justice in all areas. I have a long acquaintance with the congregation and have spoken from the pulpit many times. Fourth Universalist is a temple of inclusivity and respect, crossing boundaries that could otherwise, if allowed, divide people from each other.
This racist assault on a religious meetinghouse is a symptom of the degradation of society in the current political environment. It is one of the hate crimes that have been increasing in number and frequency since the Presidential Election. Jewish cemeteries have been vandalized. Mosques have been burned. Reports on assaults of person of color or appearing to be from the Middle East have increased. Some of our sister Unitarian Universalist congregations have had their Black Lives Matter banners repeatedly vandalized or stolen.
More than ever, freely gathered religious communities such as Fourth Universalist and the Unitarian Society of Ridgewood are needed to defend and embody the ideals of a free, open, and inclusive society. I stand in solidarity with my colleague, the Rev. Schuyler and the people of the Fourth Universalist Society. I encourage others to reach out to all religious communities and all individuals targeted in this time of growing intolerance and incivility.
Yours in Solidarity and Faith,
The Rev. Dr. Anthony P. Johnson
Interim Minister
The Unitarian Society of Ridgewood, NJ