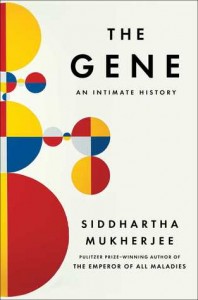 Join us for a member-led discussion of
Siddhartha Mukherjee's The Gene: An Intimate History.
January 11th at 7:30 PM, Reeb House
This is a magnificent history of the gene and a response to the defining question of the future: What becomes of being human when we learn to "read" and "write" our own genetic information? Mukherjee, the Pulitzer Prize-winning, bestselling author of The Emperor of All Maladies, is considered one of the best writers in the field today for elucidating scientific ideas for general readers. We should know about genes and how they are revolutionizing every field of science. As that is happening there are ethical issues that we are being called upon to make. Our Book Club member, Elaine Winshell is highly qualified to lead this discussion, so you will not want to miss this meeting, even if you do not have time to read the whole book.