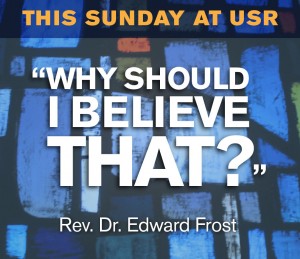 February 22, 2015 at 10:00 a.m.
"Why Should I Believe That?" Rev. Dr. Edward Frost.
Belief is obviously a curious and complicated human phenomenon. It tells us and the world who we are. It leads us to pick up the sufferer and lift him to a place of healing. It walls us in and narrows our view or opens the gates and sets us free. It matters what we believe. May we never cease from believing and never cease from doubt.

Dr. Edward Frost is the Senior Minister Emeritus of the UU Congregation of Atlanta, where he served from 1989 to his retirement in 2005. Prior to his Atlanta ministry, he served the congregation in Princeton, New Jersey, from 1976 to 1989. He has also served congregations in New England during his 50 year ministry. Dr. Frost recently returned to New Jersey to be near two of his daughters. He is the author/editor of "With Purpose And Principle," a history of the development of the Purposes and Principles and of "Coming Alive," a book of sermons and other writings. After graduating from seminary, Dr. Frost earned a Masters in Pastoral Counseling from Boston University and a doctorate in ministry (Psychology of Religion) from Meadville Lombard at the University of Chicago. He is a recipient of the Borden Prize for sermon writing
Musicians: Ron Levy, piano and Kristen Plumley, soprano.